Health Insurance Policy- Make the Right Choice.
A Health Insurance Policy protects you and your family financially in case of sudden illness or hospitalization. The right policy provides for cashless treatment in affiliated hospitals and clinics or provides for reimbursement of expenses.
Medical expenses are quite high and at the same time cannot be postponed or neglected. So it is important to buy a medical insurance policy for yourself and your family members.
Numerous medical insurance policies are available in the market. They provide for prevention care, check-ups, hospitalization and medical treatment. They cover individuals, families, senior citizens etc.
Here is a comparison of a few family floater insurance policies. These cover the entire family. The comparison aims to inform about features provided by different policies so that you can choose the most appropriate one.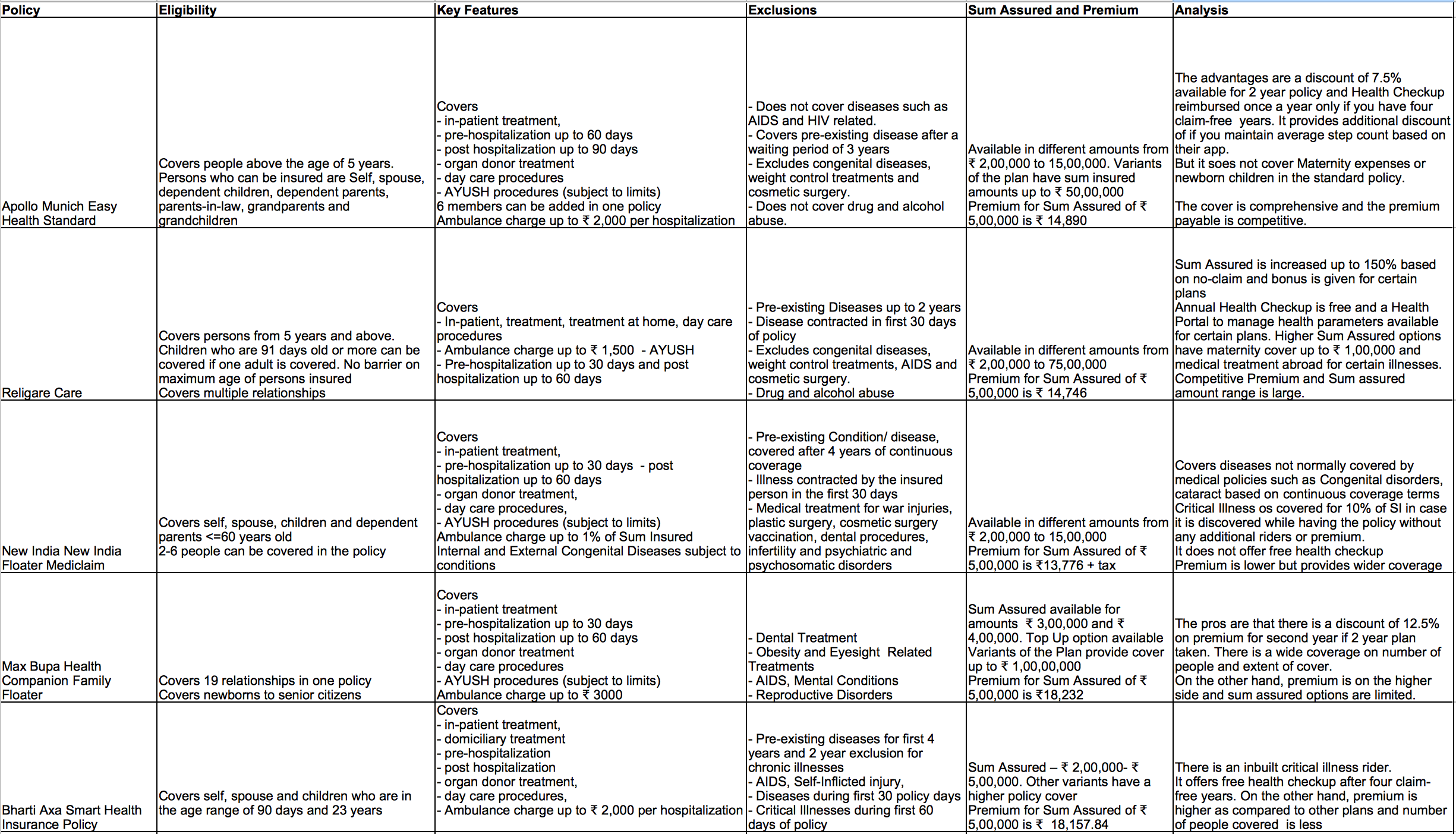 Premium for family of four – Husband, Wife and Two Minor Children. The husband's age is 35 years old and is a non-smoker
Health Insurance policies provide financial protection against medical issues and premium paid is allowed as deduction under Section 80D of the Income Tax Act.
| | |
| --- | --- |
| Particulars | Maximum Deduction Allowed |
| Premium Paid for Proposer and Family below 60 years | ₹ 50,000 |
| Premium Paid for Proposer and Family which includes proposer's parents above 60 years | ₹ 75,000 |
| Premium Paid for Proposer and Family which includes self and/or spouse and parents above 60 years | ₹ 1,00,000 |
Hope this information helps you in acquiring the right insurance policy.
*Information is as 6th Aug, 2018. Please consult the Health Insurance company/financial planner before buying a policy.