How much should I save for my child's education needs
Almost all planning including financial, start with understanding what the goal is.
Many of us would agree that parenting is a tricky job. Even trickier is planning for your children's higher education.
The mounting cost of education in recent years has eaten into a major part of the household budget. An Assocham survey showed that 65% of parents spend more than half their take-home pay on their children's education, extra co-curricular activities placing significant burden on their family budget.
According to the survey, parents spending on a single child's education has gone up from Rs 35,000 in 2005 to over Rs 94,000 in 2011 on such items and activities as integral to the school curriculum like fees, transport books, uniform, stationery, building fund, educational trips, extra tuitions and extra-curricular activities.
The survey highlights that the rising cost of education, has become a major cause of worry for parents. Majority of parents spend on average more than Rs 18 lakh-20 lakh in raising a child by the time their teen graduates from high school.
Children's needs are among the most important and mostly non-negotiable financial goals.
But if you don't start planning when they are young , you will be forced to dip into other savings.
But how much to save, and for what? The answers are a matter of making accurate assumptions and calculating from there.
Think of all the expenses that have to be met, and then separate them into – Immediate, short-term and long-term.
In the immediate category would be building a safety net for your child so that her future is protected even if you are not around. For this ensure an adequate insurance cover and an emergency fund. As soon as your child is born, include her in your health insurance plan.
It is critical to get the child's name included in the medical insurance cover as soon as permissible. Get a health cover if you don't already have one. Also, make sure that you have a life cover that is big enough to take care of your family's financial needs
The next short-term expense is likely to be pre-school. Education is the most drawn out need as it starts when the child is just a few years old and continues till at least higher education.
According to a survey by Assocham Social Development Foundation (ASDF), school expenses for a single child have gone up from Rs.55,000 per annum in 2005 to Rs.1.25 lakh in 2015. More than 70% parents surveyed also said they spent 30-40% of their take-home pay on child's education.
The survey stated that annual fees for a pre-school could be in the range of Rs.35,000-75,000 a term in some cities.
Planning for higher education expenses:
You need to know at least a ballpark amount which will be needed 15-20 years later. To know the future cost, there are three broad components to factor in—current cost, number of years you have to invest, and most importantly, inflation. The cost of education is increasing at an alarming rate of 10% .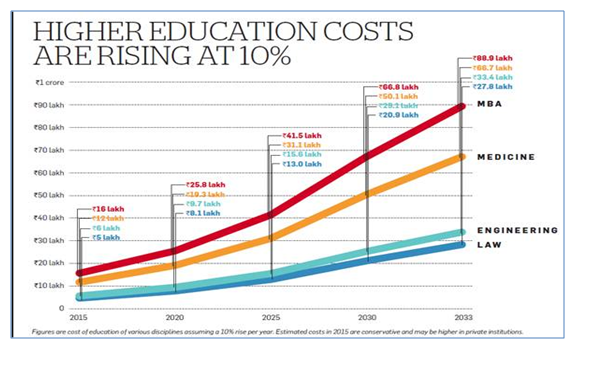 http://economictimes.indiatimes.com/analysis/best-ways-to-invest-for-your-childs-education/articleshow/45920829.cms
Let's start with saving for higher education. While it may be difficult to predict now what your child will want to study in college, you could look at the current cost of some courses. For instance, an MBA from a premium B-school in India can cost Rs.16-25 lakhs
This calculator can help work backwards given a corpus amount that we specify.
Example : If corpus = 1 crore, it will give you an estimate of the monthly savings needed.
http://www.livemint.com/Object/CPqGET2TC7Lk4zKBtcPEsL/education.html
Normally, while saving for your child's education, we tend to avoid risks and opt for security. But do not ignore the fact that inflation will beat the growth of your education nest-egg. To outpace the growth rate of inflation, allow some equity into the portfolio.
INVESTMENT OPTIONS
Real estate / Gold
There are some time tested investment options that work . The traditional method is to invest in Land / real estate and gold. Most people believe in the tangible value of an asset and real estate has never failed in providing returns. A good investment in real estate assuming proper documents and ownership can provide landfall returns if there is growth and development to supplement it. However these traditional methods have some cons too
It needs a huge capital investment and loans are expensive way to fund it
If its a plot of land there are no cash inflows until we sell it. Moreover, selling the land when we actually need the funds is a problem due to liquidity needs.
Sometimes the particular plot of real estate stagnates and does not provide the resale value
There are ownership disputes and fraud that dominates the market
Its not a very liquid asset , sometimes it takes year to sell at the right value
The value to gold fluctuates and is stagnant since the last few years
PPF
A minimum yearly deposit of Rs. 500 is required to open and maintain a PPF account. A PPF account holder can deposit a maximum of Rs 1.5 lacs in his/her PPF account (including those accounts where he is the guardian) per financial year. There must be a guardian for PPF accounts opened in the name of minor children.
Parents can act as guardians in such PPF accounts of minor children. Any amount deposited in excess of Rs 1.5 lacs in a financial year won't earn any interest. The amount can be deposited in lump sum or in a maximum of 12 installments per year.
The Ministry of Finance, Government of India announces the rate of interest for PPF account every quarter. The current interest rate effective from 1 July 2017 is 7.8% Per Annum'(compounded annually). Interest will be paid on 31 March every year. Interest is calculated on the lowest balance between the close of the fifth day and the last day of every month. The duration is fixed to 15 years.
Mutual Funds
The idea of investing in MF in the form of SIP or STP has become more prevalent and popular because of the returns that it provides. Its also more easy to track the NAV of the fund and churn funds from one MF to another based on returns. Also its easy to invest and this can be a monthly payment in the form of an automatic deduction. There is also increased liquidity and flexibility in this investment options. However , there has to be awareness about investment in the stock markets and its inherent risks and fluctuations. A mature investor can judge when and how to move his money into the market to make the maximum returns.
The asset allocation and investment style varies from scheme to scheme and it is clearly mentioned in the Scheme Information Document (SID). Some schemes invest more in equity and some others invest more in debt. Some schemes have a mandatory lock-in period, while some others do not have any lock-in period. Some schemes even allow you to voluntarily opt for a lock-in period till the beneficiary child becomes a major.
Sukanya Samriddhi account
Sukanya Samriddhi Account (literally Girl Child Prosperity Account) is a Government of India backed saving scheme targeted at the parents of girl children. The scheme encourages parents to build a fund for the future education and marriage expenses for their female child.
The scheme was launched by Prime Minister Narendra Modi on 22 January 2015 as a part of the Beti Bachao, Beti Padhao campaign. The scheme currently provides an interest rate of 8.3% (for July 2017 to October 2017 ) and tax benefits. The account can be opened at any India Post office or branch of authorised commercial banks.
A minimum of Rs. 1,000 must be deposited in the account annually. The maximum deposit limit is Rs. 150,000. If the minimum deposit is not made in a year, a fine of 50 will be levied.
The girl can operate her account after she reaches the age of 10. The account allows 50% withdrawal at the age of 18 for higher education purposes. The account reaches maturity after time period of 21 years from date of opening it. Deposits are made for first 14 years, after this period the account will earn only applicable rate of interest. If the account is not closed, then it will not earn interest at the prevailing rate
Sneha Ramamurthy
Content Analyst- Dilzer Consultants Pvt Ltd
Credits
http://www.rediff.com/business/slide-show/slide-show-1-perfin-childs-education-how-much-should-you-save-every-month/20140219.htm
http://timesofindia.indiatimes.com/business/india-business/Best-ways-to-invest-for-your-childs-education/articleshow/46091063.cms
http://www.livemint.com/Money/3L59sZIQ41G7iWhHev4tQN/How-much-should-I-save-for-my-child.html
http://economictimes.indiatimes.com/articleshow/56138465.cms?utm_source=contentofinterest&utm_medium=text&utm_campaign=cppst