Types of Loans offered
Loans are available nowadays for various things from funding a start-up to buying appliances for a newly purchased house.
Personal Loans: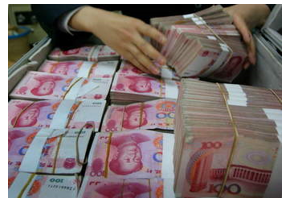 Personal loans are loans offered to customers which are used for meeting any expense like paying a bill or purchasing a new television. Generally, these loans are unsecured loans.
A few prerequisites/features of getting a personal loan are:
The lender or the bank needs certain documents like proof of assets, proof on income, etc. before approving the personal loan amount.
The borrower should have assets or income to repay the loan.
The borrower gets to know about the denial or approval of the loan within a couple of days of applying for the loan.
The rate of interest for these loans may be on the higher side. However, tenure of these loans is short.
Credit Card Loans:
It is one of the most convenient ways to pay for the things one buys. It has become a popular loan type, where in one has to repay for all the purchases made with the card at the end of the billing cycle. Credit cards are accepted almost everywhere, even while travelling abroad.
One issue to note on credit card loans is that when repaying, it is better not to opt for minimum balance EMI payment. Rather opting for repayment in EMI option at reduced interest rate on FULL loan amount outstanding is good.
Education Loans:
These loans are opted by students who wish to study further but need financial support for pursuing the courses. An education loan covers expenses like college/university fees, library charges, travel costs related to their course, etc.
To avail an education loan, one needs to submit all the required documents including invitation letter from the university, educational qualification certificates etc.
Education Loan provides tax benefits under Sec 80E to the borrower to deduct full interest payment from their taxable income.
Home Loans:
Home loans are primarily loans taken for buying new homes. However, these loans can also be used for home renovations, home extensions, purchasing land property, under-construction houses, etc.
Features/Prerequisites of home loans:
These loans usually have longer tenures (20 years to 30 years).
The rate offered by some of the top banks in India with their home loans start at 8.30%.
Credit score is checked before the loan request is approved by the lender. If one has a good credit score, one may get lower rates of interest with the home loan.

Tax benefits on home loans- Principal repayment is fully allowed under Sec 80C up to Rs 150000 and Rs 200000 under Sec 24(b) for interest repayment deduction
Car Loans:
A car loan helps one with a loan so as to enable one to actually buy and own a car.
Features/Prerequisites of car loans:
Credit reports are crucial for judging one's eligibility for a car loan – it is good to have a high credit score when applying for a car loan. The loan application will get approved easily and one might get a lower rate of interest too.
Car loans are secured loans. If one fails to pay the instalments, the lender will take back the car and recover the outstanding debt.
Two-Wheeler Loans:
A two-wheeler loan is easy to apply for. But if the instalments are not paid on time, the insurer takes the two-wheeler to recover the loan amount.
Loan Against Fixed Deposits:
This is a type of loan where the fixed deposit is the collateral. The rate of interest associated with this kind of a loan is usually higher than the fixed deposit rate.
Loan Against Insurance Policies:
If an insurance scheme is eligible for a loan, the loan can be availed from the insurer. Generally, loans cannot be availed right from the commencement of the insurance policy. After 3 years into the scheme, a loan can be applied for.
Note: For all the above loans, GST Rate of 18% Applicable for All Financial Services Effective July 1, 2017
Loan Against Rental income:
A loan against rental income allows home owners to borrow money against future rental income. Almost all the public sector and private banks, offer loans against future rentals.
A few features of this loan are:
Any person, who is the owner of a commercial or residential property, can avail of this facility.
The property can be singly or be owned jointly.
This line of credit is available for properties that have already been let-out or those, for which a lease agreement has been entered in to.
Lenders normally charge a processing fee of up to 1% of the loan amount. The interest varies, depending on the profile of the borrower and across lenders.
The current rate of interest is between 10% and 13% per annum. The loan against rental is given for a maximum period of 10 years.
For availing the loan against rentals, credit history has to be good. Otherwise, it may be difficult to get the loan.
Loan against Property:
Loan against property (LAP) is a popular form of long-term loan, especially among the self-employed. LAPs allow property owners to monetise an idle asset. Features of this loan are:
Loans can be taken against self-occupied and property that has been leased out.
The tenure of a LAP is longer and one also gets a larger amount as compared to a personal loan.
In case of default on loan payment one loses the property.
There is no tax benefit to the salaried individual on the principal amount and interest paid.
Loan Against Mutual funds:
Borrowing against mutual fund units is a viable alternative. One can avail loan against equity or hybrid mutual funds by approaching a bank. For the bank to consider a loan request, one needs to pledge the mutual fund units as security for the debt. The loan will be given based on the value of units in the folio and the tenure chosen.
Features:
Loan against mutual funds is a good way to receive instant liquidity against the mutual funds units.

If the mutual fund investment is lying idle, this is a good way to increase potential return on investment as well as quickly raise capital for short-term financial requirements.

Since it is a secured loan, the interest rate is much lower than that of unsecured personal loans.

When opting for a loan against the mutual fund units there is no need to sell the units hence the financial plan and fund ownership remains intact.
Loans given to farmers
An agriculture loan is an overdraft facility which could be used to meet the cost of farming, cultivation and working capital activities for agri-business and associated activities. Agriculture loans come with low interest loans so that farmers can avail them to run their farming business more efficiently. In India, Government banks, private banks, co-operative societies, rural and urban banks provide agricultural loans to farmers.
Loans for bad credit
A bad credit arises when a borrower carries a higher credit risk. When a borrower has a low credit score, it indicates a bad credit. The creditors will avoid lending money to the individual with a bad credit history as the borrower might default on making the payments.
A bad credit loan is a loan for individuals with a bad credit history. One gets a bad credit history:
In case of missed repayments.
In case of missed bill payments.
In case of a failed credit application.
Or when one had never borrowed in the past and the lenders are unsure if they can rely on him/her to make the repayments.
What is the difference between Demand Loan and Term Loan?
Term loan is basically a traditional loan like personal loan which has fixed interest rate, maturity date and may or may not need collateral to get sanctioned. It is a secured loan.
Demand loan is a very short-term loan which do not have fixed date of repayment, has floating interest rates and lending institution can demand for the repayment any time they want.
Table showing difference between term loan and demand loan:
| | | |
| --- | --- | --- |
| | Term Loan | Demand loan |
| Time Tenure | for very longer period of time range from 1 to 20 years | for very shorter period, which may range from few days to several months |
| Mode of Repayment | have pre-planned repayment i.e. has certain maturity dates and fixed instalment | have very open-ended repayment feature |
| Interest Charged | is charged on total amount of loan sanctioned in the case of term loan | is charged only on the amount used, not on the whole actual principal |
| Type of borrower | mainly borrowed by individuals. | mainly borrowed by business groups. |
Debalina Roy Chowdhury
Dilzer Consultants
Sources
https://www.bankbazaar.com/home-loan/different-types-of-bank-loans-in-india.html?ck=Y%2BziX71XnZjIM9ZwEflsyHxYQMyzPNpmqTNd2itIAemZC0TqFEkhF6ljN6nbC1ZXXBwImSfaF7%2BS%0AmJOG7qYyyg%3D%3D&rc=1
https://www.creditmantri.com/article-what-is-agriculture-loan-in-india/
https://www.bankbazaar.com/personal-loan/bad-credit-loans.html?ck=Y%2BziX71XnZjIM9ZwEflsyEiJK5%2B6Ye0ekdtKVC1ElgeZC0TqFEkhF6ljN6nbC1ZXXBwImSfaF7%2BS%0AmJOG7qYyyg%3D%3D&rc=1