When should you discontinue an insurance policy
Term plans are straightforward products and you can rarely go wrong while buying one. Even so, you can end up with an unsuitable policy or fall into a trap. For most buyers, the premium alone is the deciding factor. The best feature of term plans is that they are cheaper than the traditional plans available. Premiums of term policies are lower given the fact that they are pure insurance products unlike endowment plans, which provide insurance as well as investment opportunities. As endowment policies park part of the insurance premiums into financial instruments with a view to generating returns, they are expensive. Unlike traditional plans, term plans do not generate income after the insurance period is over.
They only provide insurance. As term plans are comparatively cheaper, they present a good opportunity to those who cannot afford expensive plans.
Here's what you should keep in mind before you go shopping for a term plan.
Amount of cover :
An inadequate cover certainly defeats the purpose of buying insurance. The sum assured must be large enough to cover the basic expenditure that your family will incur, financial goals such as the education and marriage of children, and other liabilities like loans. So take a large cover that provides for all these needs and also factors in inflation in the coming years.
Policy term :
Insurance companies usually highlight premium rates for 30-year-old buyers for normal 20-year plans. It's a clever ploy because the premiums for this low-risk age band of 30-50 years are very low. However, such a plan will end when the person's insurance needs are very high. At that age ( 50 +) , a new policy will cost him a bomb. He might even be denied the cover if his health is not good. Don't take a 15-20 year plan that will terminate when you are in your 50s. Buy a cover till the age of 75
A cover of Rs 1 crore may seem sufficient at today's prices, but you also need to factor in the impact of inflation. "The value of Rs 1 crore today is far less than what it was 10 years ago and what it will be 10 years from now," says Sanjeev Kumar Pujari, appointed actuary, SBI Life Insurance. Even 8% inflation will reduce the value of Rs 1 crore to less than Rs 15 lakh in 25 years.
To get around this problem, some insurance companies offer plans where the cover increases every year. The Smart Shield plan from SBI Life has an option where the sum assured increases by 5% every year. If you take a Rs 50 lakh cover, it will increase by Rs 2.5 lakh every year. By the fifth year, it would be Rs 60 lakh and Rs 72.5 lakh by the tenth year.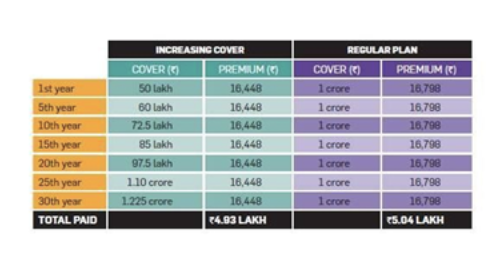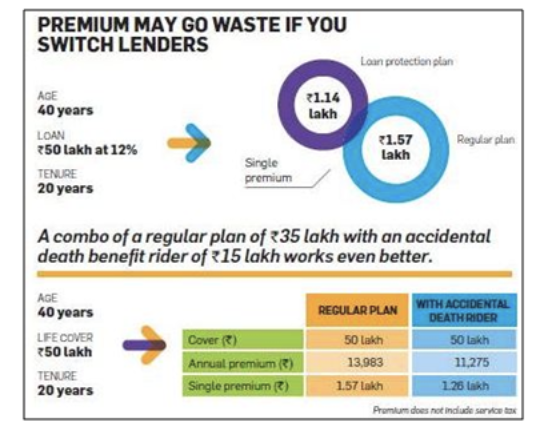 Loan protection cover:
Financial planners advise that you should cover big-ticket loans with an insurance policy. In case something happens to you, your family will not have to sell the house because you are no longer there to pay the EMIs. Home loan protection plans offered by insurance companies are designed to cover loans. The insurance cover is linked to the loan amount and progressively comes down as the outstanding loan is paid off. These are single premium policies where the entire premium is paid up front.
Moreover, if a borrower refinances the loan and moves to another lender, his policy goes waste.
Will your insurer keep its promise?
It's a question that haunts all policyholders, and the data with IRDA is not very heartening. The insurance regulator says private insurers rejected about 8% of the claims they received in 2012-13, while the LIC rejected 1.12%. The figures may not be comparable because any claim made within two years of buying a policy is investigated in detail and the settlement often gets delayed. Private insurers have been in the market for only 10 .. odd years, so many of the claims they receive are 'early death' claims. Some private insurers have just stepped out of the cradle, while the LIC is two years short of being a senior citizen.
If you are looking for a term insurance plan, you MUST know the IRDA Claim Settlement Ratio (CSR) before making the decision. At this point, we must tell you that in spite of the fact that overall CSR is NOT the best way to decide on your term insurance plan, you cannot ignore it because it is one of the best available indicators as of today.
Why do so many claims end up in the trash can? There can be several reasons. The policyholder may have held back certain key facts at the time of filling the application. Perhaps the form was filled up by an agent who, deliberately or otherwise, gave incorrect information.
Or maybe the company didn't make an effort to verify the information while accepting the application. Whatever the reason, almost 8.5 lakh insurance claims, amounting to almost Rs 9,525 crore, were rejected in 2012-13.
Experts point out that the claim rejection figures are not for term plans alone but for a company as a whole. Claims get rejected usually due to fraudulent practices by the buyer or agent and lax underwriting by the company.
When you apply for a term plan, you are subjected to stringent medical tests. The higher the sum assured, the more elaborate the tests; but the more extensive the medical tests, the lower is the premium. For example, the Click2Protect online plan from HDFC Life charges a premium of Rs 8,575 per year for a cover of Rs 49 lakh, but if the cover is Rs 50 lakh, the buyer is required to undergo more tests and, therefore, the premium is lower at Rs 6,000 per year.
It's best to be completely honest about your health, social habits, age and occupation when you apply for a term cover.
The premium of your term plan is 60-80% higher if you consume tobacco in any form. So, it's tempting to say one doesn't smoke or chew gutka to keep the premium low, but nicotine traces can be detected in your blood even 2-3 years after stopping the habit.
CSR data published for the year 2015-2016 by IRDA has below CSR data for different Insurance companies :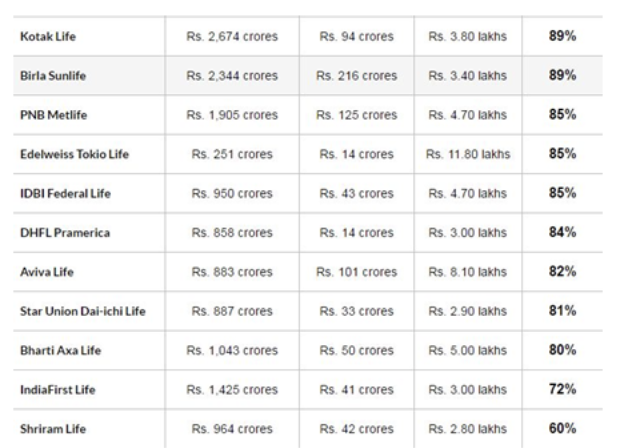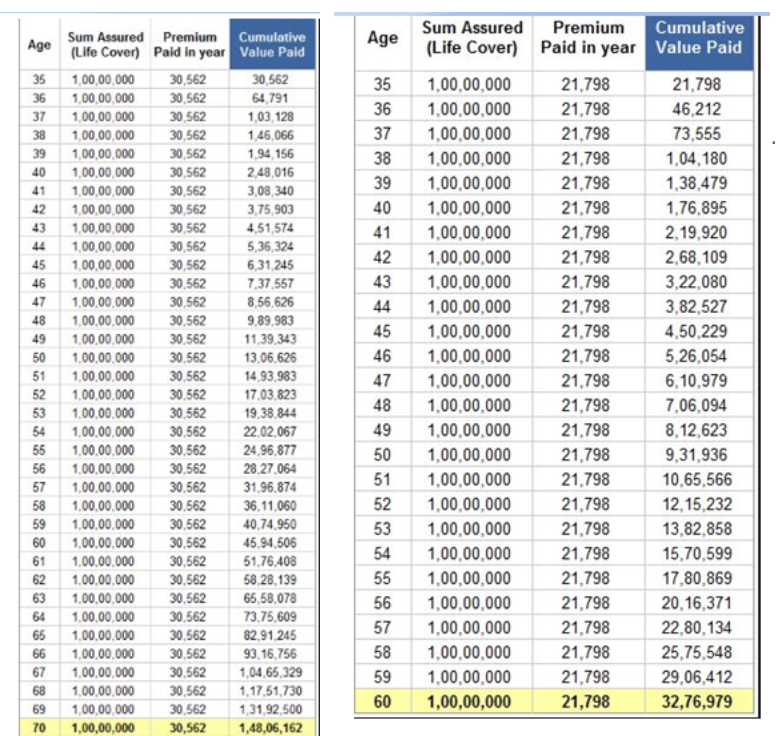 When should you stop / switch your Insurance policy :
Opting out of a term life policy is much easier than getting out of cash value policies. In term policies if you stop paying the premium the risk cover ceases and the policy ends. Nothing is payable to you as there is no savings element in the policy.
Further, many term life policies are "renewable" and "convertible." The former ensures that you can go in for another term policy without a medical exam at the end of the first term policy. The latter allows you to convert your term life policy into an endowment policy for the same sum assured with associated increase in premium, should this make sense during the term of the policy.
Cover for loans and liabilities: Term insurance is a boon when you cover for a risk taking age. Most home loans or personal or business loans don't go beyond your retirement age because you will not be earning , then what is the use of a term insurance plan.
Term Insurance is not worth when taken over a longer period:
Here is an example of 2 policies :
Let us assume you are male, 35 years age, non-smoker and want a cover of Rs. 1 crore. Let us take the rates for the recently launched LIC Online Term Insurance Policy e-Term. LIC offers life cover till 75 years, but not more than 35 years of cover period.
– For a term of 35 years i.e. cover till age 70, the all-inclusive premium is Rs. 30,562 per annum.
– For a term of 25 years i.e. cover till age 60, the premium is Rs. 21,798 per annum.
You will notice that the difference is substantial. Anyway, let us proceed to find out if it is worth it.
Life Insurance cover is constant throughout the policy period. So whether you die at 36 or 63 or 73, you get the same – Rs. 1 crore. It is important to understand that with time, the value of money reduces drastically.
Premium paid at age 35 is Rs. 21,798.
By age 36, you have actually paid 21,798 x 2 = 43,596. But since you paid 21,798 more than a year ago, the real value is 21,798 x (1+12%) + 21,798 = 46,212. This is because if you had not bought a term plan at all, the first year's premium would have got your returns @ 12% (assuming equity returns) after 1 year.
By age 37, you have paid 21,798 + 21,798 x (1+12%) + 21,798 x (1+12%) x (1+12%) = 73,555, i.e. returns for 2 years on 1st premium, for 1 year or 2nd premium, … and so on. By age 60, your 'investment' in premium (@12%) is worth Rs. 32,76,979 for a Life Cover of Rs. 1 crore. Still a worthy investment if you die.
Table 1: Cover until 60 years
If the same policy is taken until the age of 75, the numbers are at a huge disadvantage to your pocket.
At age 67, your 'investment' in premium becomes worth Rs. 1,04,65,329 for a Life Cover of Rs. 1 crore! So even if you die, you get back only Rs. 1 crore.
Cover for dependents : Term plans make sense to people who will be beneficiary incase of an unfortunate event . But if children are earning and settled and the spouse has other sources of income or is no longer there , it makes no sense to continue a term cover plan.
So be a smart and informed investor – save money in creating a fund to meet regular expenses after Retirement, or to manage your Health Insurance costs but not pay for unnecessary policies .
Sneha Ramamurthy
Content Management
Dilzer Consultants Pvt Ltd
Credits:
http://www.moneycontrol.com/news/business/personal-finance-business/all-you-want-to-know-about-term-insurance-policy-1551263.html
http://economictimes.indiatimes.com/articleshow/29701605.cms?utm_source=contentofinterest&utm_medium=text&utm_campaign=cppst
https://www.pnbmetlife.com/articles/protection/surrendering-your-insurance-plan.html
30 June 2017