Which Health Insurance – Individual or Floater?
Healthcare costs are rising fast and a health insurance plan secures the family's finances against medical emergencies.
It is a must to have a health insurance plan in place to ensure that financial independence does not come in the way of treatment of any illness, however critical it is. A number of health insurance options are available in the market. Here we will discuss in detail about individual plan and family plan.
A brief understanding of Individual plan and a Family Floater Plan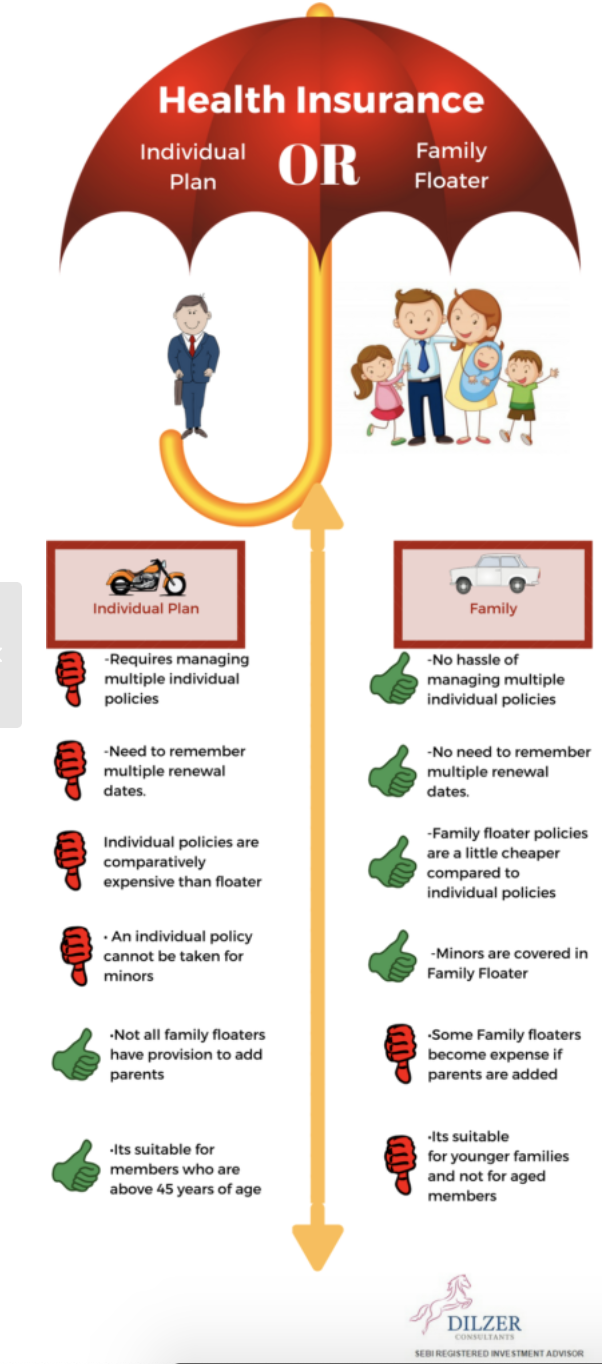 An Individual Health Insurance Policy can be taken for one person only. For each of the family members proposed to be insured, one needs to purchase separate policies depending upon the number of members in the family. Hence, each family member will have a certain fixed sum assured under this policy.
A Family floater Health Insurance Policy can be taken to include all the family membersagainst multiple diseases under a single cover. Family floater health insurance offers a fixed assured amount for the family members that can be availed either by one or as a lump sum for treatment of one person. Family benefit means that the sum, as specified for the proposer under the policy, is available for any one or all members of his /her family for one or more claims during the tenure of the policy. Family plans come at a marginally incremental expense. The amount of family health insurance in this case should be determined by the family's needs, number of people, their age etc.
To note, the premium does not rise in the same proportion as the cover. For example if aRs 5 lakh family floater cover is for Rs 12000 a year, a Rs 10 lakh cover will not cost Rs 24,000. It will be about Rs 18,000 a year.
Whether to buy an individual plan or a family plan?
Every insurer offers both these two types of health insurance products. Each variant has its advantages and disadvantages. A brief discussion about the benefits and drawbacks of both should enable a person to take a better and wise decision regarding the right purchase of a health insurance policy.
Advantages of Individual Healthcare Plans
Cashless Claim Service: Cashless hospitalization offered by health insurance service providers allows an individual to avail medical facilities without paying cash to the hospital.
Hospitalization Daily Allowance: Many individual plans provide individuals with a daily allowance for each day he/she spends in the hospital provided the insured has spent a minimum number of days in hospital care (as mentioned in the insurance policy).
Tax Benefits: The premium paid on that policy is eligible for tax deduction under Section 80D of the Income Tax Act.
Advantages of Family Floater Healthcare Plans
Higher Sum Insured: A family floater insurance plan provides higher sum insured and greater coverage than individual insurance policies.
Tax Benefits: Tax benefits for family floater health insurance policy can be availed under Section 80D of the Income Tax Act. The tax benefit can be doubled if one is paying for the policy of parents.
Greater Medical Coverage: The family gets maximum medical coverage under the family floater plan.This includes hospitalization fees, doctor consultations, expenses for medical procedures undertaken, hospital staff care, ambulance cover etc. Also, some insurance companies provide the facility of medical check-up for the whole family every year.
Avail Discounts: One can avail discounts that these policies usually offer.
Easy to add new family member(s): In a family floater plan, it is easy to add a new family member.
Continuous Family Cover: Many insurance service providers have now given an option of upto two years policy cover. This allows a continuous hassle-free coverage without any change in premium costs for the selected tenure.
Thus, as is evident from above, Family floater plans cover parent's health insurance, spouse and children's insurance in one healthcare plan.
Comparision of Family Floater Plan and Individual Plan
It is more about checking the product features, pricing of the two plans and individual needs when deciding whether to go for individual or family floater version.
Family floater plans do have certain advantages of its own, when compared to the individual plan. They are:
Firstly, there is no hassle of managing multiple individual policies.
There is no need to remember multiple renewal dates.
Family floater policies are a little cheaper compared to individual policies and thus it is good for young families who have less budget for their insurance spending.
An individual policy cannot be taken for minors and by defaultone needs to purchase a family floater policy to cover the children.
When Individual Policies are more appropriate than Family Floater Policy
A very few family policies allow one to add parents to the family floater plan. Also if the eldest aged members are added to the policy the premium for the whole family will shoot up. In such case it is better to purchase individual health plans for both of them.
If any of the aged members has an illness that increases chances of hospitalization, it is sensible to go for individual policies. This is because if one goes for a family floater in such case (illness of parents) the premium for both the members (entire Sum Insured) will be loaded.
Children who are covered under family floater plan have to move to fresh individual plans when they turn 25. However, Continuity benefits (for waiting period for pre-existing illness) shall apply.
Family floater plans are more suitable for young families, where the chances of hospitalization are relatively low. Where the members are above 45, it is better to purchase individual plans rather than family floater plans.
What should be the correct strategy when making a choice over the two polices?
If we refer to what has been discussed above, a proper way to approach the choice of policy is:
Identifying and short listing the right products on the basis of features.
Covering the whole family in one family floater plan.Opting for a sufficiently high sum assured is a must as multiple family members are covered in the policy.
If a member is high risk or prone to illness, take a separate cover for that member and cover rest of family in a floater plan.
Purchasing individual cover for parents.
Setting up a dedicated sum assured for any of one of the parents who may be more prone and susceptible to illness/hospitalisation. By doing so, one is also protecting the NCB under the family floater policy from being nullified in case any one of the parents gets hospitalised.
The above approach will ensure that one get the benefits of both the family floater and Individual health insurance policies.
Features of Family Floater Plans
The sum assured can be extended to cover few other members of the same family if the need arises.
Policy allows cashless treatment of the insured at any network hospital. The policy may include room rent up to a certain amount of money per day, for every day of hospitalization.
Some policies work on the co-pay basis, where the insured pays a percentage of the medical expenditure and the insurer pays the rest. Such policies have lower premium as the insured shares part of the hospitalization costs.
Some insurers offer such policies online, where a declaration of good health by the insured does not require any medical check-ups (exceptions apply).
Some insurers offer automatic restore/top-up of sum assured by 100% if due to a hospitalization of one family member, the sum assured gets exhausted.This takes care of recurring hospitalization in the same year.
Annual Health Check-up benefit applies irrespective of claim.
Insured gets No-claim bonus.
Features of Individual Health Plan
The insurance provider covers some medical costs of the insured based on the premium paid.
The policy covers hospitalization charges.
Lifetime renewal option is there.
Covers surgery costs, room rent, physician's fee and laboratory tests etc.
The insured needs to pay a predetermined amount for certain health care services. This is called co-payment.
Pre and post hospitalization expenses are covered under this plan.
Policy provides coverage for critical illness.
Debalina Roy Chowdhury
Dilzer Consultants
Sources
https://www.personalfinanceplan.in/insurance/individual-health-insurance-vs-family-floater/
https://www.policybazaar.com/health-insurance/family-floater-health-insurance/articles/individual-health-insurance-vs-family-floater-plan/
https://www.coverfox.com/health-insurance/articles/individual-vs-family-floater-health-insurance-plans-which-to-choose/#gs.usCQluA
12 May 2017