Best Health Insurance Policies
Health Insurance takes care of the financial backup needed in case of medical issues and emergencies. It helps to save money on various expenses incurred from hospitalization and other Out Patient Department expenses.
It is a must to have a health insurance plan in place to ensure that financial independence does not come in the way of treatment of any illness, however critical it is. Opting for a medical insurance policy or critical illness insurance rider by way of paying a marginal amount as premium regularly ensures onea hassle free treatment in case of medical emergency.
Health Insurance Policy Types
· Senior Citizen Plan for insuring people aged between 65 to 80 years in time of medical emergencies.
· Critical Illness policy that pays out a lump sum amount if the insured people are diagnosed with any of the life-threatening diseases listed in the policydocument.
· Family Floater which covers an entire family for a fixed coverage which is shared by all family members mentioned in the policy document .
· Individual Health insurance policy to cover an individual person up to a fixed sum insured chosen by the individual during a policy year.
Group Mediclaim Policy which provides medical coverage to a specific group of people.
Heath Insurance: Compare the Best Medical Insurance Policies and Buy the Best Plan
One can pick from the below mentioned Health insurance plans in India(as mentioned in www.policybazaar.com).These plans were chosen and picked as they are the topmost in terms of certain parameters like eligibility, uniqueness of features, coverage, affordability, limits and exclusions.
A few Good Health Insurance Plans in India
Star Health Senior Citizen Red Carpet Plan: If one is looking for an unique plan for aging parents, Star Health's Red Carpet Policy is an ideal choice.
Features :
Covers medical costs due to any disease, sickness, injury or accidents.
Covers pre-existing conditions from the second policy year.
Minimum waiting period of 12 months,
No pre-policy medical checkup
Cashless treatment in more than 6000 network hospitals.
The premiums are very much pocket-friendly considering the benefits on offer
Exclusions
Expenses on Hospitalization are payable if the patient is hospitalised for a minimum period of 24. hours. However this time limit will not apply for Day Care treatments /procedures, taken in the Hospital /Nursing Home and the Insured is discharged on the same day.
Star Health Cardiac Care: This is a health insurance policy for those who have undergone heart related treatment.
Features
This policy has two Plan options – Gold Plan and Silver Plan
Silver Plan is for covering expenses incurred as an inpatient for treatment in respect of all cardiac related complications that necessitate surgery/intervention
Gold Plan is for covering expenses incurred as an inpatient for treatment in respect of all cardiac related complications that necessitate medical management, surgery/intervention
Out Patient Benefit is available
Personal Accident: Accidental Death Cover
No Pre acceptance medical screening
405 day-care procedures covered
Exclusions
Quite a few expenses are not covered under this plan. A few are:
Expenses incurred for Cardiac related treatment in the first 90 days of the plan
Any non-cardiac related pre-existing medical condition is covered only after 4 years of continuous renewal
Treatment for any disease or illness in the first 30 days of the plan unless caused due to an accident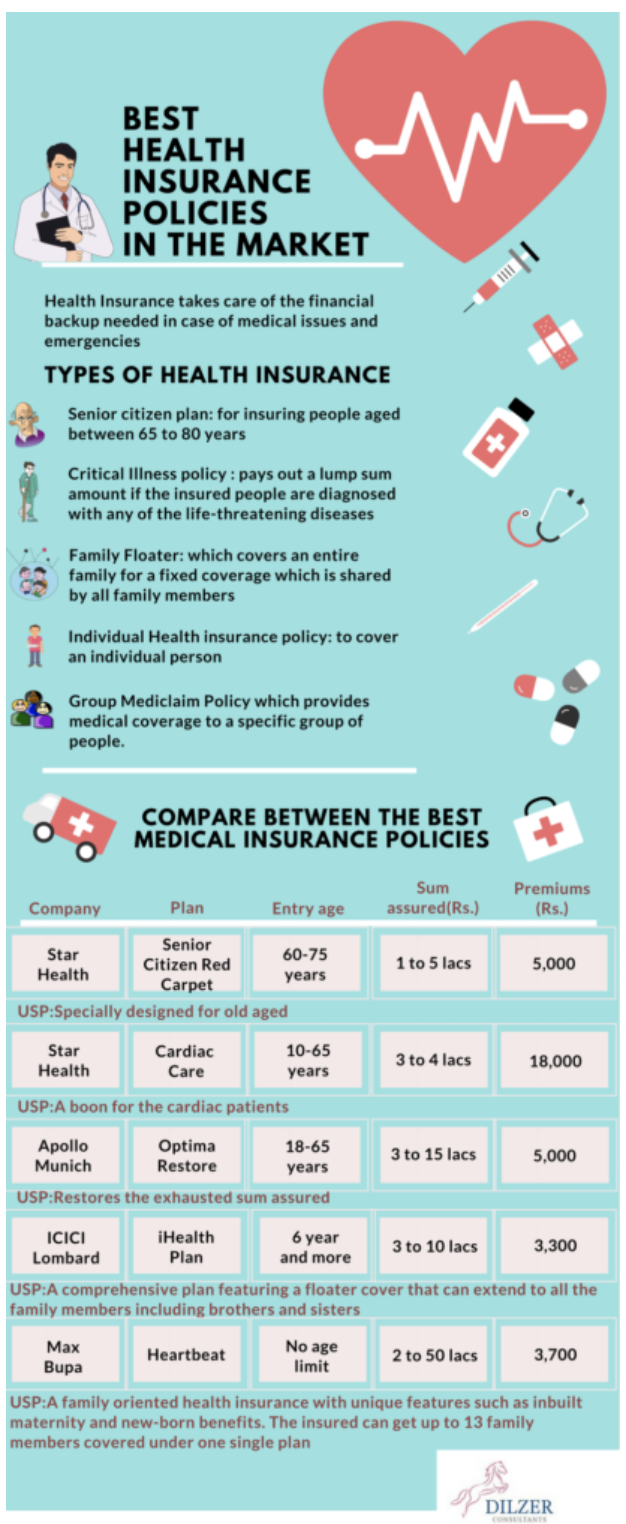 Apollo Munich Optima Restore :This plan offers a unique Restore benefit that automatically reinstates the basic sum insured in case the amount is exhausted in a policy year.
Features
If the coverage in an individual policy is used up and the person falls ill with another illness, the entire sum insured is restored.
This is done at no extra charge.
It also rewards a multiplier benefit in case no claim is made on the policy.
The multiplier benefit doubles the sum insured in 2 claim free years.
With the "Stay Active" benefit premium discounts are given at renewal.
Exclusions
All treatments within the first 30 days of cover except any accidental injury
Any pre-existing condition will be covered after a waiting period of 3 years
2 years waiting period for specific diseases like cataract, hernia, joint replacement surgeries, surgery of hydrocele etc.
Expenses arising from HIV or AIDS and related diseases and many other exclusions
ICICI Lombard Complete Health Insurance:This provides premiere service with good number of network hospitals and better claim ratio.
Features
Lifelong renewability
No health check-up up to the age of 45 years (age as on last birthday)
Option to choose sub-limit and modify premium
Exclusions
Exclusions that remain valid for the first 30 days include any illness incurred within 30 days of the beginning of the Policy.
on subsequent renewals, the exclusions ceaseto apply.
Max Bupa Heartbeat Family First Policy :This covers the entire family's medical expenses in case of illness or accident.
Features
Discount on premiums after 2 years of policy period.
Free health check –up at designated Max Bupa diagnostic centres after every 2 years
Assured policy renewal for life
Direct claim settlement
Exclusions
No treatment covered within first 90 days unless it is an accident/emergency.
Benefits not applicable on pre-existing diseases.
Cosmetic, aesthetic, or related treatments not covered.
Disease due to alcohol intake not covered.
Treatment done with non-allopathic medicines not covered.
A few other health insurance plans worth mentioning are :
Religare 'Care' – Health Insurance Policy
New India Assurance JanataMediclaim Policy
Bharti AXA SmartHealth
Oriental Insurance Happy Family Floater
L&T my:healthMedisure Prime Insurance
Table enumerating brief details about the Best Health Insurance Policies in the Market (www.policybazar.com)
| | | | | | | |
| --- | --- | --- | --- | --- | --- | --- |
| No. | Company | Plan | Entry Age | Sum Assured (Rs) | Premium starts from (Rs) | USP |
| 1 | Star Health | Senior Citizen Red Carpet | 60 – 75 years | 1,00,000 to 5,00,000 | 5000 | Specially designed for old aged |
| 2 | Star Health | Cardiac Care | 10 – 65 years | 3,00,000 to 4,00,000 | 18000 | A boon for the cardiac patients |
| 3 | Apollo Munich | Optima Restore | 18 – 65 years91 days to 21 years (for floater) | 3,00,000 to 15,00,000 | 5000 | Restores the exhausted sum assured |
| 4 | ICICI Lombard | Complete Health Insurance- iHealth Plan | 6 years – No upper limit3 months (for floater) | 3,00,000 to 10,00,000 | 3300 | A comprehensive plan featuring a floater cover that can extend to all the family members including brothers and sisters |
| 5 | Max Bupa | Heartbeat | No age limit | 2,00,000 to 50,00,000 | 3700 | A family oriented health insurance with unique features such as inbuilt maternity and new-born benefits. The insured can get up to 13 family members covered under one single plan |
| 6 | Religare | Care Health Insurance Plan | 5 years – No upper limit3 months (for floater) | 2,00,000 to60,00,000 | 2300 | This plan set a new benchmark by extending the upper limit of the sum insured to 60 lakh (highest in health plans) |
| 7 | New India Assurance | JanataMediclaim | 18 – 65 years3 months (for floater) | 50,000 or 75,000 | 700 | This plan has also set a benchmark. With a lower cap of premium at just Rs 700, it is the most affordable health insurance plan |
| 8 | Bharti AXA | Smart Health | 2- 65 years3 months (for floater) | 50,000 to 5,00,000 | 4300 | A truly smart plan with flexible coverage and distinctive features such as inbuilt critical illness benefit, personal accident add-on at a nominal additional cost and 11 different value-added benefits |
| 9 | The Oriental Insurance | Happy Family Floater | 21 – 65 years3 months (for floater) | 1,00,000 to 10,00,000 | 1300 | An affordable family floater with valuable add-ons and discounts |
| 10 | L&T Insurance | my:health Medisure Prime Insurance | 18 – 65 years 3 months (for floater) | 3,00,000 to 10,00,000 | 6000 | It was recognized as the product of the year in 2012 and for the right reasons. my:health takes the best of all plans and serve it on one plate |
What are the factors to be considered while choosing a health insurance :
Features
Costing
Portability
Exclusions
Waiting period for pre existing illness
Room benefits single room- sharing
Operative procedure costs covered
Co Share option- where the insurance company and the insured share the costs for the hospitalisation
Top up options
Insurance restoration
A few good health insurance policies for business owners to consider based on their high incurred claim ratio are:
· New India Assurance Health Insurance
· Bajaj Allianz Health Insurance Plan
· National Health Insurance
Debalina Roy Chowdhury
Dilzer Consultants
Sources
http://www.hdfclife.com/health-insurance/need-for-health-plan
https://www.coverfox.com/health-insurance/articles/the-best-family-floater-plan/#gs.VvOQDi0
https://www.advisorkhoj.com/articles/Financial-Planning/9-Steps-of-Investment-Success-for-the-Young-Generation
https://www.gibl.in/health-insurance/
https://www.coverfox.com/health-insurance/star-health-and-allied-insurance-health-insurance/senior-citizens-red-carpet-policy/#gs.xKwtJLI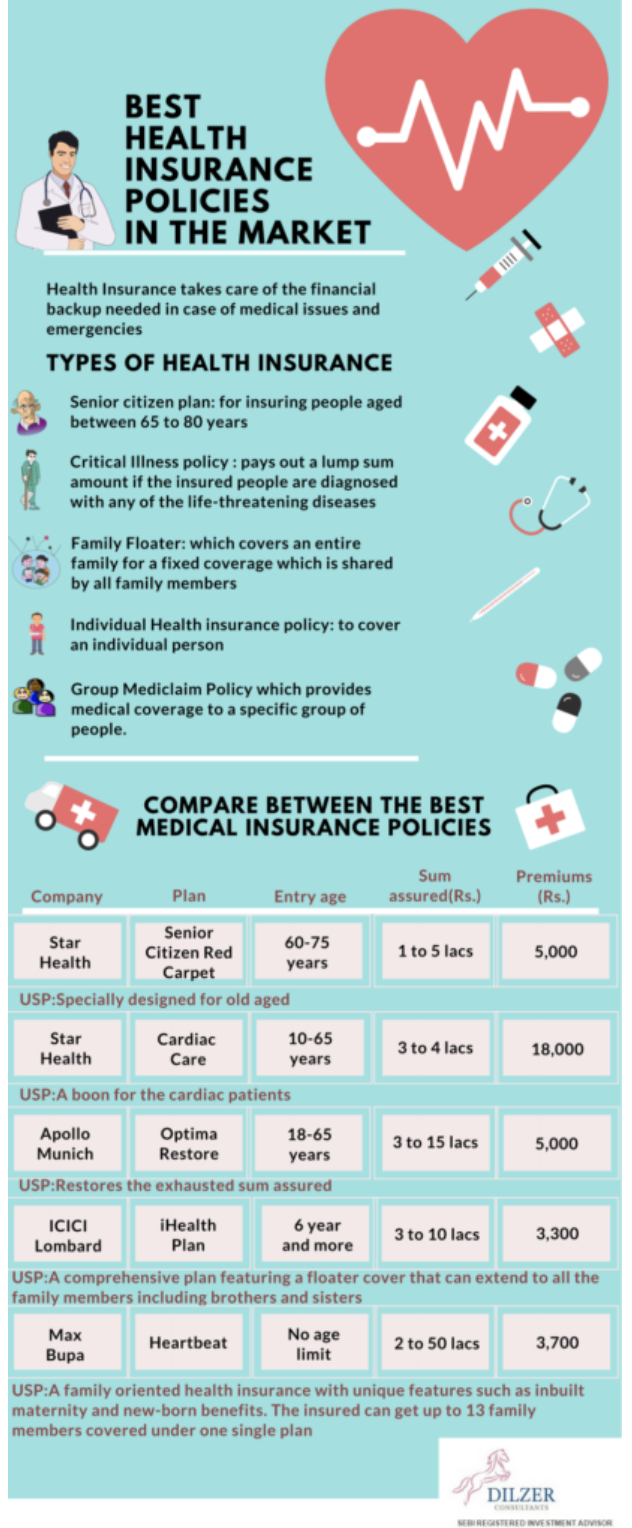 28 April 2017