Do I need a health corpus when i already have medical insurance?
Can you depend on your health insurance policy to take care of all your healthcare costs?
Planning and taking care of healthcare expenses pre and post retirement is an important task as these expenses generally increase with age. To ensure this, adequate health insurance should be in place. However, a health insurance policy pays only for hospital bills and does not take care of all the expenses related to a medical treatment. What happens to expenses incurred on health outside of hospitilisation?
Exclusions under Health Insurance Policy – Why do you need a Healthcare corpus?
A few medical costs which are excluded and not covered under a health insurance plan are mentioned below:
Some out-patient procedures are excluded.
Cosmetic surgeries and dental treatment are excluded unless they are required due to an accident and require hospitalization.

Also excluded are expenses on about 200 items such as: toiletries, cosmetics, specified medical items (like prescription glasses, contact lenses, hearing aids and crepe bandages) to administrative expenses (like admission kits, discharge procedure costs, and visitors pass expenses).

OPD X rays and regular medical check up are not covered.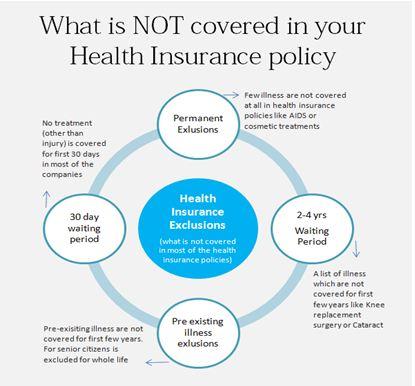 Most indemnity plans do not pay for domiciliary treatment and preventive health care.
Apart from the above exclusions, pre- and post-hospitalisation costs are reimbursed only up to certain (usually 60-90) number of days. All these non-payable items can add up to about 10% of the in-patient costs. It is, therefore, important to have a separate corpus for paying such bills and fund such amounts (exclusions) which are not covered under a health insurance.
Thus, Health care corpus is a fund created to take care of health care expenses that are not covered in the scope of health insurance. Though the importance of health insurance cannot be stressed enough, it is equally important to create an emergency corpus that will only aid a health insurance policy.
How to build a healthcare corpus?
Saving systematically early in life
Many people find it difficult to save for their regular goals. Hence, a separate healthcare corpus becomes out of the question, too. However if one saves Rs 1,700 in the form of SIP for 20 years, one can easily accumulate a corpus of Rs 10 lakhs after 20 years. (The annual rate of return is assumed at 8%). Hence, the amount of investment need not be high. But one needs to start at an early stage in life to benefit from the compounding effect.
How to save for healthcare corpus ? Where to invest ?
A good way to save money is committing a fixed sum every month over a long period. Also, one must make sure that the corpus lasts for long.
The choice of instruments should depend on their tenure, the expected return and the investor's risk tolerance. The money towards healthcare corpus should be kept in investments that provide liquidity along with capital protection. One should not look forward to earning higher returns on this corpus through risky instruments, as stability of the corpus is a key factor.
A few options to invest in, for healthcare corpus for pre retirement purpose are:
Liquid funds or liquid-plus funds: Fixed Deposits: One can also consider fixed deposits Monthly income plan (MIP): Non-cumulative fixed deposit: If a person can do with annual payouts,
Options for post Retirement Health Corpus options
SIP in Equity funds accumulated until 1 year prior to retirement and then switched to arbitrage/ liquid funds for usage.
Why the need for a separate Health Corpus post Retirement
Healthcare costs rise as one age . Unlike some developed countries, in India people do not have social security or long term health-care products. Also, if a person is not working in a public sector organisation, one cannot depend on the employer for life-long health care benefits. More so, the group insurance ceases as soon as one retires. Added to this, is the inflation factor. With advancement in medical science, costs rise, too.
Without no hospitalisation also, there will be regular out-of-pocket expenses such as on medicines, preventive check-ups and consultation.
It is, therefore, important to build a separate portfolio for medical expenses so that they do not eat into the retirement savings.
How much to save for post retirement healthcare expenses?
To estimate post-retirement healthcare expenses, one needs to first look at the present costs. Add to it cost of factors such as longevity and threat of out-living the corpus or deteriorating health as one ages. Expenses related to lifestyle diseases must be included, too.
It is better to provide for more funds than the current requirements. The healthcare expenses for the spouse should be included in the calculation. A general estimate is that every couple should keep aside at least Rs 15-20 lakhs in future value of money for post-retirement expenses for medical care. medical expenses.
Debalina Roy Chowdhury
Dilzer Consultants
Sources
http://www.newsgram.com/how-will-you-deal-with-health-expenses-after-retirement/
http://www.businesstoday.in/moneytoday/cover-story/health-plans-for-retirement-years-should-factor-in-costs/story/188414.html
http://content.icicidirect.com/mailimages/Flavour_of_the_Month_FEB2016.html?utm_source=email&utm_medium=email&utm_term=FOM&utm_campaign=IMM_FEBRUARY2016
http://www.livemint.com/Money/IrdIOG5yotsZCYOwack9dO/The-best-health-insurance-strategy.html