How do I Insure myself from business losses
If a person is thinking on the lines of starting a new business, he/she also probably needs to think about what risks of the business are needed to be covered with insurance.
One needs to cover a range of risks and potential incidents, like accidents, injuries, equipment damage, theft and liability claims. Equally important is to ensure that the coverage is just right for business needs and is fairly priced.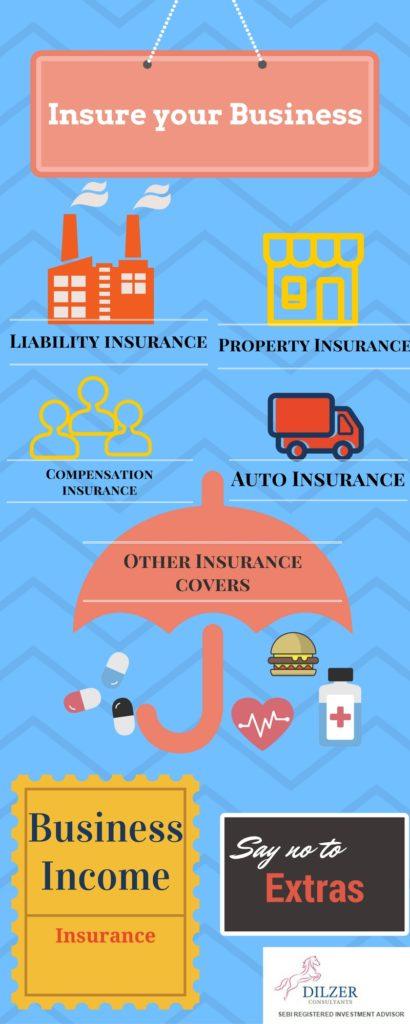 What Types of Insurance Should a Small Business Consider
These are the primary business insurance coverage's needed for a start-up. Some may not apply, or may be less essential, depending on the type of business and it's structure.
General liability insurance
Property insurance
Workers' compensation insurance
Commercial auto insurance
Commercial umbrella insurance
Management and professional liability insurance
Business income insurance, also known as business interruption or continuation insurance
Insurance for Food Entrepreneurs
Safe food-handling practices must be a top priority for all food entrepreneurs so that no one becomes ill from consuming the food product. The food entrepreneur will need insurance coverage before startingmaking food products and handing out samples to prospective clients.
An insurance policy is needed to:
Protect assets such as business property, home, and other personal assets
Get a bank loan for food business
Ensure that wholesale distributors will be willing to carry the food product
Qualify one to use shared-use kitchens and other rented facilities etc.
Personal insurance when you are self-employed
When a person is self-employed he/she does not have an employer to rely on for sickness cover, or health insurance.
Many self-employed people take out income protection insurance and critical illness cover in case they get too sick, or injured to work, or get a serious illness.
Life insurance is also common for people who have dependents, such as a partner or children.
Health Insurance for Entrepreneurs – A Buyer's Guide for Self-employed and Small Business Owners
An area that needs attention in case of Self-employed and Small Business Ownersis health insurance.
Deciding on the amount of money one is ready to spend on a monthly basis to cover the health insurance needs is one of the most important decisions to make, and having done that, here are some basics that need to be taken care of to get the best protection within the given budget:
Avoid being attractedby marketing which claims to offer extras such as health club memberships. These extras only add to the cost of the insurance.
The health insurance should be more specifically for catastrophic or emergencymedical needs and beyond the basics.

If one wants to save the most amount of money on health insurance while still protecting against disaster, choosing a higher deductible is definitely something to consider.

Use Internet, to do the research quickly and easily.

Before thepurchase, one should make sure one is dealing witha reputable company that will honor its side of the deal if the need be.
Should Insurance be capitalized
Insurance costs should be capitalized or recorded as assets when the costs have not expired and they have future economic value.
Should Insurance be used to pay debt
Indian law allows creditors to claim the insurance money against an insured person's dues on personal, professional and business loans.
Covering Losses with Business Interruption Insurance
Business interruption insurance also known as business income insurance is a type of insurance that covers the loss of income that a business suffers after a disaster. The income loss covered may be due to disaster-related to closing of the business facility or due to the rebuilding process after a disaster.
It differs from property insurance in that a property insurance policy only covers the physical damage to the business, while the additional coverage allotted by the business interruption policy covers the profits that would have been earned.
This extra policy provision is applicable to all types of businesses, as it is designed to put a business in the same financial position it would have been in if no loss had occurred.
This type of coverage is not sold as a stand-alone policy.
It can be added onto the business'property insurance policy or included in comprehensive package policy such as a business owner's policy(BOP)
Common limitations of Business Interruption Insurance
Most standard business insurance policies cover only loss or damage to tangible items –the equipment and inventory and warehouse, office or store – and not lost profits if the business cannot operate.
Business Interruption Insurance: 8 Terms to Help You
In order to better understand business income insurance a few terms are explained below :
Actual loss sustained: Business income coverage covers the actual loss sustained by the insured as a result of direct physical loss or damage to the insured's property by a peril not otherwise excluded from the policy.
Business income: Business income includes the net income (net profit or loss before income taxes) that would have been earned or incurred by the insured and the continuing normal operating expenses incurred, including payroll.
Period of restoration: Insurers are liable for the loss of business income only during the period of restoration.Period of restoration is the length of time required to rebuild, repair, or replace the damaged or destroyed property.
Extra expense: Itis defined as the necessary expense incurred by the insured during the period of restoration that it would not have been subjected to if there had been no physical loss to real or personal property caused by a covered peril.
Service interruption: This provides coverage for an insured for direct physical loss, damage, or destruction to electrical, steam, gas, water, sewer, telephone, or any other utility or service including transmission lines and related plants, substations, and equipment of suppliers of such services.
Contingent business interruption(CBI) coverage is designed to cover an insured's business income loss resulting from loss, damage, or destruction of property owned by others, including: direct suppliers of goods or services to the insured and/or direct receivers of goods or services manufactured or provided by the insured. The property damage to these suppliers or receivers must be of a type that would be covered by the insured's policy had the damage happened to the insured's property.
Leader property: It is an endorsement that provides coverage to the insured for direct physical loss, damage, or destruction of the type insured by the insured's property policy to property not owned or operated by the insured, located within the stated distance to insured's property or business, and which attracts business to the insured.
Examples would include a nearby amusement park, mall etc.
Interruption by civil or military authority coverage: This is provided to the insured for the actual loss sustained by the insured during the length of time when access to such described premises is specifically prohibited by order of civil authority as a direct result of damage as insured against in the insured's policy, to covered property on the described premises or property adjacent to the premises described in the insured's policy.
How to Claim Loss of Business Income With Insurance
There must be an actual loss of business income to claim insurance. Business income is defined as net income and continuing operating expenses.

To determine if there has been a loss of Business income, net profit or loss is added to necessary continuing operating expenses and then compared to what would have been earned but for the loss.

The business must experience a necessary suspension of operations during restoration.

The period of restoration begins some specified amount of time following the loss and ends when the property should be repaired or replaced with reasonable speed or when the business resumes at a new location, whichever comes first.

The loss must result from direct physical loss or damage at the premises described in the declarations that is caused by a covered cause of loss.
Debalina Roy Chowdhury
Dilzer Consultants
Sources
http://www.thehartford.com/business-playbook/startups-business-insurance
http://extension.psu.edu/food/entrepreneurs/starting-a-business/insurance
http://www.kanetix.com/self-employment-health-insurance-tips
https://www.marsh.com/us/insights/research/business-insurance.html