How much health insurance does one need
Health Insurance takes care of the financial backup needed in case of medical issues and emergencies. It helps to save money on various expenses incurred from hospitalization and other Out Patient Department expenses.
It is a must to have a health insurance plan in place to ensure that financial independence does not come in the way of treatment of any illness, however critical it is.
Table depicting the relevance of Family Floater and Individual Plan
(Source :http://economictimes.indiatimes.com/wealth/insure/how-to-choose-the-best-health-insurance-policy/articleshow/49514375.cms)
How Much Health Insurance Should You Get?
While choosing a health insurance plan, it is important to keep in mind that the type and size of the plan varies from person to person. The needs of a healthy young single person are quite different from the needs of a family person.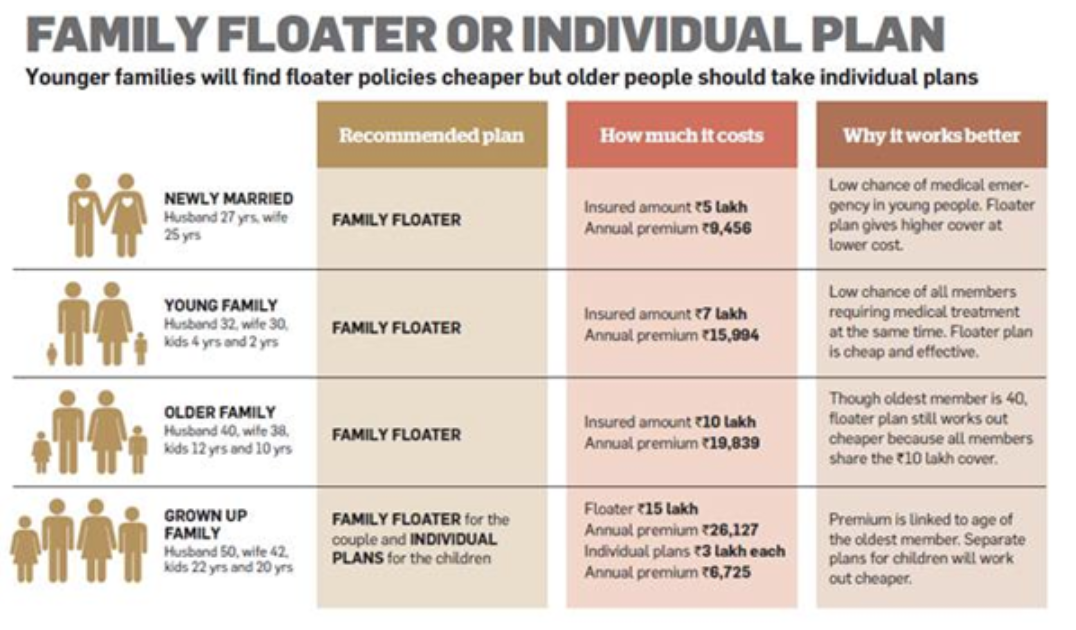 How much health insurance does a couple with no children need?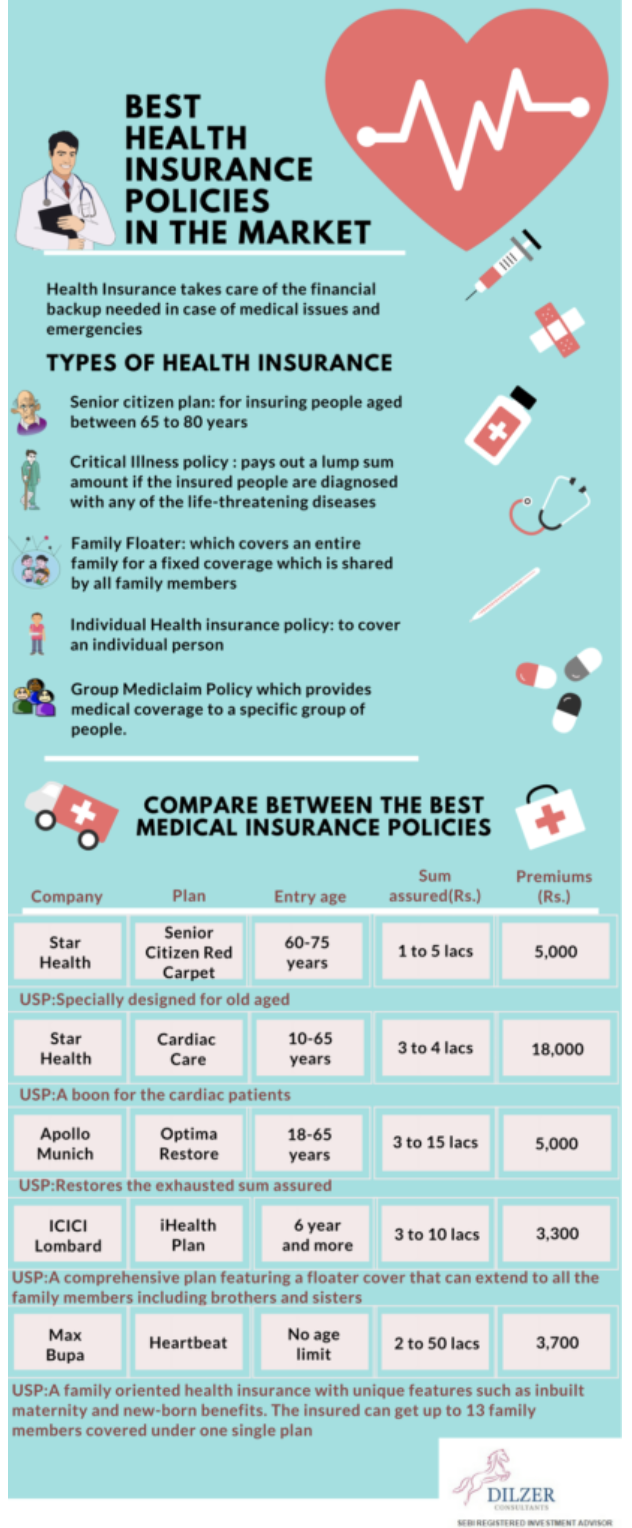 To cite an example, Mr Singh from Delhi is 30 years old. His family consists of his wife and himself.He is already having a group cover from employer of around Rs 8 lakhs.
For a family of two, a recommended cover will be
Rs 5 lakh floater plan for both husband and wife.
For the same family with one aged member( say mother ) added , a recommended cover will bea separate individual cover for the mother for Rs 5 lakh in addition to the floater plan.So in this case the cost of additional insurance comes to around Rs40,000 per year.
How much health insurance does a couple with children need?
Mr Kookal from Kerala , 42 years of age, holds a medical claim policy – a family floater plan covering him, his wife and son for a sum ofRs 4 lakhs. In addition to this he holds a cover for family of Rs 4 lakhs from his company.
In this case, for a family of three with one child as a member , the cover is not enough. Moreover, supplementing the employer's cover in adequate amount is an absolute must given the uncertainties in job. Mr. Kookal can loose his job any time or he may move to another job which does not provide group insurance .So, on the personal front, he must be prepared with adequate medical insurance and a cover of at least Rs15-16 lakhs will be needed.
The amount of cover will increase accordingly with the number of children.
How much health insurance does a couple with " Double Income and No Kids" (DINKs) need?
Getting medical insurance is an absolute must for young Dinks. Getting an additional cover of at least Rs 3- 5 lakhs as medical cover over and above the medical insurance the employer offers them is a very much necessary. The same cover should be taken both for the husband and the wife early in life so that one can get exemption on pre-existing diseases later on, in case any onechanges companies or leaves the job.
A Rs. 3 lakh policy should be more than sufficient when married with no kids, which can be increased upon having children to Rs. 5 lakhs .Slowly, the couple can look into buying a serious disease disability policy, and an accidental death-cum-disability insurance, too.
Thus when one starts, initially, taking a small cover is sufficient . Then it is advisable to increase it as one crosses new milestones in life, such as delivery of a baby, or adding parents to the policy after they retire or, say, after any one of them crosses 40 years.
Does a low-cost policymakes sense?
Mrs Datta, from Punjab bought a health cover some six years ago just after she got married. That time she wanted a maternity cover and was not willing to spend too much on premium. She purchased floater policy from the insurer of around Rs2 lakh cover which will give Rs20,000/30,000 of maternity expenses during child birth.
ARs2 lakh sum insured health cover may not suffice at all during the present. She needs to buy health insurance for at least Rs8 lakhs. This higher cover will also provide for a higher coverage on maternity expenses. Even a normal delivery in a high-end hospital in a metropolitan city costs about a lakh of rupees nowadays.
Covering family economically by way of a top up plan
One way to get a higher insurance cover but not end up paying hugely is to take a top-up plan which is much cheaper. These plans have a threshold limit and only claims above that limit are paid. A person can cover himself, his wife and child in a top-up plan and state the sum insured of the current policy as the threshold.
More about top up plans and their benefits are available here :https://dilzer.net/2016/02/20/what-are-top-up-plans-and-how-can-they-help-cover-medical-expenses-at-lower-costs/
Tax Benefit Angle
The premium paid towards health insurance policies is eligible for tax deduction under Section 80D of up to Rs 25,000 from the current financial year. Senior citizens can get a benefit of Rs 30,000.
If a person takes a family floater covering dependant senior citizen parents in the policy, then the total eligible deduction is up to Rs55,000, which will be deducted from the income to arrive at the taxable income.
Conclusion
The healthcare needs of each individual vary as per to their age and medical history. One should not forget to count on medical cost inflation into the health plan. The cover has to be increased every year in sync with inflation in healthcare costs.
A look at the treatment cost of common ailments over the last five years reveals an average annual increase of 10-25% per cent. Some insurers increase the sum insured every year by 5-10 per cent without the client asking for it, but this is only if there has been no claim on the policy that year.
To conclude, each individual is different and hence the health insurance coverage need is different too. Thus, it should help to meet a dedicated financial planner who understands the personal and family requirement and helps one to make a wise decision.
Debalina Roy Chowdhury
Dilzer Consultants
Sources
http://www.thehindubusinessline.com/portfolio/beyond-stocks/how-much-health-insurance-do-you-need/article7467126.ece
http://economictimes.indiatimes.com/how-to-choose-the-best-health-insurance-policy/tomorrowmakersshow/49624739.cms
https://www.quora.com/How-do-couple-with-%E2%80%9CDouble-Income-and-No-Kids%E2%80%9D-DINK-manage-their-financial-portfolio
https://www.policybazaar.com/income-tax/health-insurance-tax-benefits-and-deductions/
5 May 2017