How much Life Insurance do you need
Estimating Life Insurance Requirement is an important part of financial planning. While buying life insurance, many people are unable to arrive at an adequate sum assured in sync with their requirement. Many people do not have life insurance at all, thereby risking the financial well-being of their families.
Are you adequately Insured ? – Being uninsured, under-insured, over-insured
An uninsured person exposes his/her family to the maximum financial risk because after death he is not leaving his dependents with adequate financial support, especially if he is the primary bread winner of the family.
Similarly, if a person is under- insured the family is at risk, too. For example, he is insured for only Rs 60 lakhs. However the family's expenses and goals is Rs 1.5 crore o he is definitely under-insured.
Thus the need arises to arrive at an adequate sum assured which is just right for the family's requirements.
Factors which determine the amount of life cover one should buy
Putting a monetary value to life is not easy. Several factors go into the calculation. Enlisted are the most important factors.
Need for minimum protection
It is very much necessary that a certain level of income should be available for the family even when the main bread earner is not around. To cite an example, a family's present needs are around Rs 30,000 p.m. The amount of life insurance for the main earning member should be such that interest income from the sum assured can meet the family's monthly expenses of Rs 30,000.
One should take into account the inflation factor and take policies for higher amounts.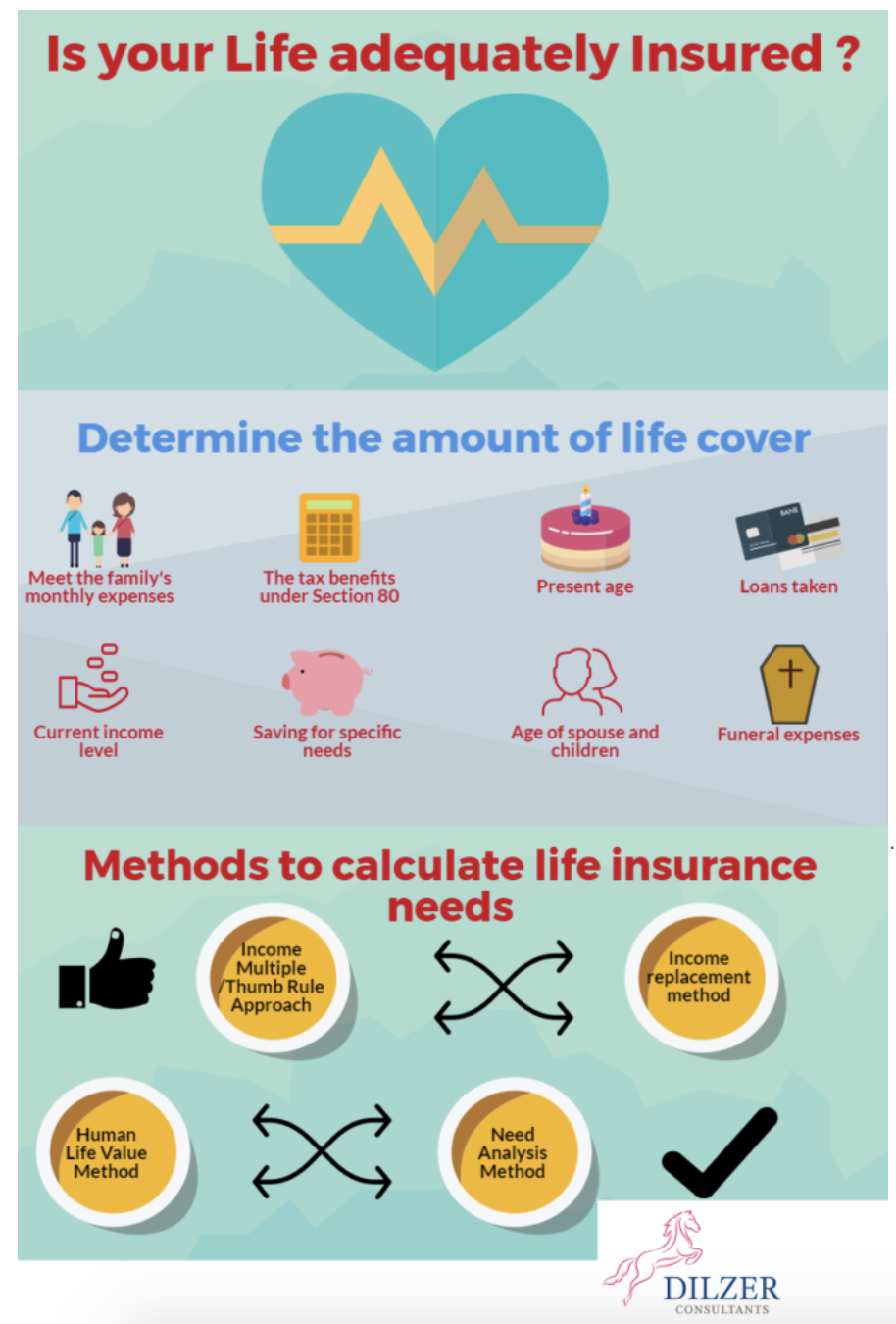 Current income level
Payment of insurance premium results in an outflow of disposable income. One may, therefore, not like to buy too much insurance. Hence, he/she needs to limit the amount of insurance, keeping in mind the current income level, so that there are no cash flow problems arising out of the obligation to pay regular instalments of insurance premium.
Tax benefits
The tax benefits under Section 80C should be taken into account.
Saving for specific needs
One may like to buy an insurance policy for a specific amount so as to meet a lump sum commitment towards a particular goal like education and / or wedding of children.
Present age
Present age is a critical factor in deciding the amount of insurance that a person can afford. Premium amount generally increase with age.
Age of spouse and children
Age of spouse and children helps a person to estimate how many years of income replacement they will need if he/she were to die.
Debts
Car loans, Student loans and other debts should be taken into account in life insurance planning.
Funeral expenses
The average cost for a funeral, burial and related expenses should be taken into account too.
Four methods to calculate the life insurance needs
The amount of life insurance cover should be enough to take care of the insured person's loans, children's education and family's daily expenditure. Listed and explained in brief are five methods used to calculate how much life cover one should buy.
Income Multiple or Thumb Rule Approach
The income thumb rule says that a person should calculate his/her insurance need by multiplying the current total income by 10 to 12 times. Suppose, if the income is Rs. 8 lakhs, the life cover should be around Rs. 80 lakhs to Rs. 96 lakhs.
2. Income replacement method
This method is based on the insured's current annual income. One simply needs to multiply the current annual income with the expected number of years left to retire. For example, a 30 year old person with annual income of Rs 10 lakhs will require an insurance cover of Rs 10,00,000 * 30 = Rs 3 crores. It means Rs 3 crore value of insurance would be required to replace the person's expected future income.
3. Human Life Value Method:
It is defined as the present value of all future income that the insured expect to earn for the family, less the personal expenses, existing life insurance premiums and taxes. It does not take into account liabilities and future goals.
According to this method, the amount of life insurance coverage that one should buy is directly proportionate to the economic value, otherwise called human life value (HLV). It is the capitalized value of an individual for the rest of the life and is calculated on the basis of current inflation. The HLV is calculated on basis of three factors namely
Age
Current and future expenses
Current and future earnings.
Example of HLV Method :
| | |
| --- | --- |
| Net Income per annum | 10,00,000 |
| Age of the person | 40 |
| Retirement age | 60 |
| Salary Growth rate | 5% |
| Earnings rate | 9% |
| Estimated Income Corpus | 1,43,49,025 |
| Monthly household expenses | 50,000 |
| Inflation | 8% |
| Earnings rate | 9% |
| Estimated Expense Corpus | 1,09,63,148 |
| Outstanding Loans' amount (if any) | Nil |
| Education expenses | Nil |
| Total insurance cover needed ( after considering loans and education expense) | 33,85,877 |
| Liquidable assets ( if any) | 1,00,00,000 |
| Existing Life insurance cover | 60,00,000 |
| Additional insurance cover required (after deducting liquidable assets and existing cover) | -1,26,14,123 |
Thus, the Human Life Value method considers the earning potential of a person for the remaining period of life and determines the corpus required to replace the income in the event of death of such person.
In this concept, the actual needs of the person are not considered. It is assumed that, the person would have met all his needs out of the future income. But, the income of such person may not be adequate to meet all the needs. This is a major drawback of HLV method.
4. Need Analysis Method or Expense Method of Evaluating Life Insurance needed:
This method overcomes the above mentioned drawback of HLV method. As the name suggests, this method mainly focus on needs of the family rather than assessing insurance needs through one's income. Deeper analysis into a person's family liabilities, goals and expenses makes him/her more comfortable with need analysis approach.
Here, irrespective of the income of the person, one needs to determine the Present value of all the needs one has to fulfil, which is the required corpus. The following are the needs in general, which should be considered:
Expenses incurred just before and after death of the insured (Hospital bills, Funeral and other ritual expenses)
Outstanding loans
Living expenses for the spouse till his/her expected life period or at least till any child supports him/her
Education expenses of child/children
Marriage expenses of child/children
Currently most of the financial planners use this method to get more realistic results. It ensures that one is neither under-insured nor over-insured.
Conclusion
Life insurance needs may differ on an individual basis. Therefore, it is advisable to get in touch with an expert financial planner to arrive at the exact life cover needed.
Debalina Roy Chowdhury
Dilzer Consultants Pvt Ltd
Sources
http://www.rediff.com/money/2008/jul/18perfin.htm
http://www.businesstoday.in/magazine/money-today/cover-story/how-much-insurance-cover-one-should-buy/story/235368.html
http://www.thewealthwisher.com/2012/07/02/how-to-calculate-your-life-insurance-needs/
http://www.financialexpress.com/money/are-you-adequately-insured-find-out-how-much-life-insurance-you-need/609328/
9 June 2017