MCLR Rate Vs Base Rate
The MCLR is a reference rate or internal benchmark for the financial institution. Marginal cost of funds based lending rate defines the process used to determine the minimum home loan rate of interest. The MCLR method was introduced in the Indian financial system by the Reserve Bank of India in the year 2016.
The MCLR system has replaced the base rate system that was introduced in the year 2010. Thus, renewal of credit limits and sanctioning of loans is done as per MC LR norms.
Since MCLR is closely linked with the repo rate and fund costs of the banks, if there is a change in the repo rate, it will have an impact on your home loan's floating rate of interest.
If a bank brings down the marginal cost of funds based lending rate, the floating rate of interest associated with your home loan also comes down. This will not be affecting your equated monthly instalments (EMI) but the tenure of the loan will get impacted.
Mainly, MCLR depends on
Tenor premium, – k.a longer the duration of loan period, higher the premium. Banks are allowed to charge a premium to the borrower for the risk (uncertainty) associated with lending for longer period.
Operating costs of the bank – Expenses of running a bank, opening a branch, rent , ATM installations , salary , management etc.
Negative carry on Cash Reserve Ratio (4 %) – Cash Reserve Ratio, the minimum amount of money kept as reserve for liquidity which the bank cannot use
Marginal cost of funds- Which includes:
Bank rate interest (charged by banks from consumers)
Repo Rate (charged by RBI from banks)
Rate of Return on the capital
Now weights are assigned to it with a 92% weight to the sum of (1) and (2) and 8% to (3)
Benefits –
Improving transmission of the policy rate into lending rates of the banks.
Bringing in transparency in the method followed by various banks for the determination of interest rates.
Ensuring the availability of bank loan at rates that fair to both lenders and borrowers.
Enabling the lenders and banks to be competitive and improve their worth in the long run.
SWITCHING FROM BASE RATE TO MCLR
NEW home loans will be on MCLR but the loans which have been taken on or before 31st March 2016, will continue to be on the Base Rate system. Here, you have a choice. You can choose to stay on Base Rate till the end of your tenure or you can switch to MCLR. Which brings us to an important question:
The decision to switch to MCLR from base rate depends majorly on the actual benefits and the transfer cost. Various banks charge differently for this switch. However, there are certain banks that allow you to convert home loan to MCLR without charging anything.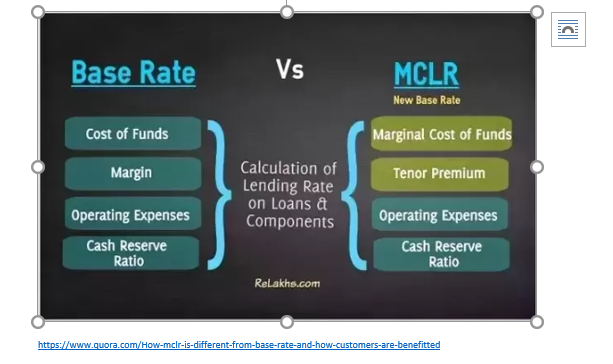 This primarily involves two steps;
If you would like to switch to MCLR system then you have to request your banker to link your loan rate with MCLR instead of Base Rate.
Once your loan is linked with new MCLR rate, you can request your banker to reduce the quantum of 'spread'. Your Banker may charge you one-time fee (conversion fee) for reduction in Spread. Henceforth, you will get the new Rate of Interest (ROI) which is linked with MCLR.
You might be confused as to why there are different MCLRs and not just one.
Unlike Base Rate which was common for all loans, MCLR is different for loans with different tenors. Tenor is the period after which the interest rate of a loan resets. Basically, the MCLR will be published by the banks each month. If you take a loan with a 1 year tenor in April 2016, then your interest rate will reset in April 2017 and according to the MCLR of that month. And MCLR is different for tenors of 1 month, 3 months, 1 year and so on.
Once you switch to MCLR, you cannot revert to Base Rate and it would be wiser to wait and find out how well the new system works. If you decide that MCLR is much better than Base Rate, then you can switch immediately. If you feel that Base Rate is better, then no harm done! You can continue on the Base Rate till the end of your loan.
Current trends and rates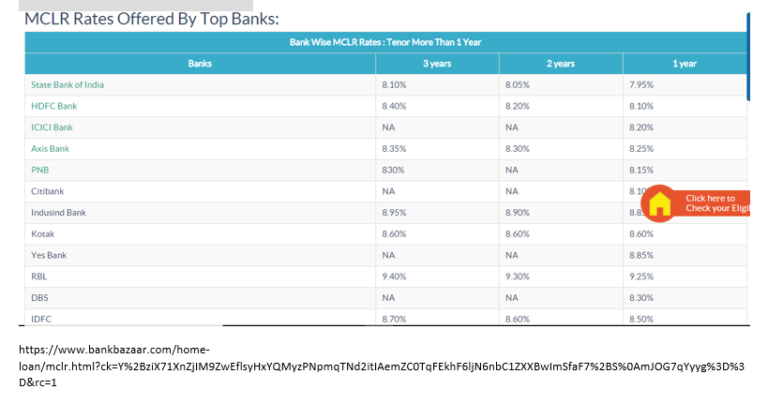 Another interesting read on MCLR is also available here
Sneha Ramamurthy
Dilzer Consultants Pvt Ltd
Credits
http://www.dnaindia.com/business/report-rbi-sees-a-goldilocks-economy-lower-inflation-higher-growth-2601466
https://www.bankbazaar.com/home-loan/mclr.html?ck=Y%2BziX71XnZjIM9ZwEflsyHxYQMyzPNpmqTNd2itIAemZC0TqFEkhF6ljN6nbC1ZXXBwImSfaF7%2BS%0AmJOG7qYyyg%3D%3D&rc=1