What is not covered by your motor insurance policy
As per Motor Vehicles Act, it is mandatory for all motor vehicle purchasers to buy a insurance cover along with the purchase of a vehicle. Motor Insurance protects one from an unfortunate event of an accident. A person can buy motor insurance through the vehicle dealer or can get it on his own from any of the insurance companies in the market.
In either case to get the best cover under a motor insurance it is important to note:
what a plan covers
what it does not cover
What is not covered by a motor insurance policy?
In a car insurance policy (like any other insurance policy) the terms and conditions with regard to exclusions are given in fine print and full of jargons, which makes it very confusing to the buyers. Thus, it is absolutely necessary to know and understand the exclusions and various terms and conditions of a plan so as to avoid claim rejection.
Third party insurance and what it does not cover :
A person can fulfil the mandatory motor insurance requirement by buying Third Party Motor Insurance. It covers one's legal liability for the damage caused to a third party while using his/her vehicle and comes at a lower cost.
It does not cover damage done to a person or his/her vehicle in the course of an accident.
Comprehensive plan and what it does not cover :
Comprehensive insurance goes beyond liability or third party coverage. It is thus better to buy a Comprehensive plan because it comprises third-party motor insurance as well as own-damages cover.It is the non-compulsory 'own-damages cover' part of the comprehensive motor policy that actually pays one in case of damage to or theft of the car. Own Damage insurance covers only 60 per cent to 65 per cent of a comprehensive plan.
There are quite a number of things which it does not cover.
The exclusions are mentioned below:
If the policy is not in force at the time of accident damages will not be covered under insurance. That is why timely renewals are absolutely necessary. The motor policy is a yearly contract and has to be renewed without a break. In case any damage happens post the expiry and before the next renewal, the loss will not be covered.
If the person driving the vehicle does not possess a valid driving license at the time of accident, the insurance company will not entertain any insurance claim and he/she needs to bear the entire cost of repairs.

If the insured or any other person, with the knowledge and consent of the insured was driving the vehicle under the influence of alcohol or drugs then the damages arising out of accident are not covered in almost all policies.

Any damage to the car due to war, terror attacks, invasion, foreign enemy action, civil war, mutiny, rebellion, hostilities, radiation or nuclear material/weapons are not covered under a standard motor policy.

Any sort of damage occurring due to manufacturing defect is not covered.

Deliberate accidental loss, that is a loss arising out of an accident or event that was deliberate is not covered.

Accident due to improper usage of vehicle is not covered too, for example, rash driving.

There is a certain time-frame, may be different for different insurers, within which one has to inform the insurer about the mishap. Otherwise, claim for damages will not be entertained.

If the vehicle is not properly registered at the time of accident, one will not be paid insurance money.

Every vehicle has a defined capacity. If a person is driving an overloaded vehicle and an accident takes place, one will not be entitled for an insurance claim.
Any damage done to the vehicle engine due to oil leakage is not covered.

Some insurance policies define a particular geographical area, such as Delhi-NCR, and if an accident takes place beyond that area, the claim will not be entertained.

Using a personal vehicle for purposes other than it is licensed to, for example as a taxi, will debar one from claiming insurance.

Deliberate accidental loss, that is a loss arising out of an accident or event that was deliberate is not covered.

In case the car is broken or vandalised, the insurer will pay for the damages caused to the car. It will not pay for any theft or damage caused to personal belongings kept in the car.

The policy would also not cover any contractual liability that a policyholder may have towards the insured asset, that is, the car. Contractual liability refers to any claim that may arise because of the policyholder entering into a contract. For example, if one has loaned the car to someone under an agreement, the car will not be entitled for insurance claim.

Any kind of consequential loss is generally not covered. For instance, if lack of maintenance leads to some major damage to the vehicle, it will disqualify one from getting the insurance.

If a claim is rejected by the insurer and not taken up in court within 12 months of the rejection then the claim cannot be recovered from the insurer at any point of time later.

The insurer will only pay for claims that have been made for the car registered under the policy holder's name. For example, a spouse drives the car and meets with an accident, the insurer will reject the claim on this ground.


Coverage that can be added by paying extra premium (Add-On Benefits)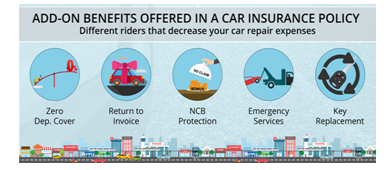 Since a car depreciates year on year, insurer pays the amount by deducting the depreciation charges of the damaged part(s) and the rest of the repair cost has to be borne by the insured but the same can be covered with zero-depreciation add-on.
In case the car gets stolen or completely damaged, one gets the depreciated value of the car under the standard policy. The value is called Insured Declared Value. If a person chooses the add-on cover of Invoice Price Cover, one gets the invoice value of the car along with the registration fees, road tax, and insurance, given the vehicle is covered up to 2 years from the date of registration.
Under a motor insurance policy a claim free year can give one up to 50% discount on the renewal premium due to the 'No Claim Bonus'. The percentage can get reduced to 0% because of a single claim.The 'No Claim Bonus Protector' add-on cover helps one retain the same 'No Claim Bonus' even after 2 claims in the policy period.

A 24×7 road assistance which helps a lot in cases such as sudden tyre puncture, fuel run -out, etc is not covered in a vanilla policy but the same can be added by paying a nominal cost.

The Key Replacement Cover add-on covers the cost incurred to replace the vehicle key if it's lost or stolen. Reimbursement would be given for the lock as well if it is replaced, following the loss of the key.


Third Party or Comprehensive Insurance: Which Is Right for Me?
It is necessary to understand a few variables in order to compare, analyze and decide upon the right car insurance scheme.
Value of the car: If value of the car is low, it is advisable to take third party motor insurance since repairs to damages caused can be managed cost-efficiently and easily.
If the car is a brand new one and expensive, comprehensive cover is the better option.
Coverage: Third party insurance covers damages to third party vehicle, injuries caused to other people in an accident, as well as damage to third party property. Some companies charge extra for third party property coverage. Third party overage has become mandatory these days since cost of repairing damages to the car is high. However, it does not provide any coverage against damages to own vehicle.
If one is looking for coverage for his/her own and the vehicle, a comprehensive car insurance policy is what one needs given it has a wider coverage including provisions for third party as well.
Expense: A comprehensive cover is more expensive than a third party cover since it provides coverage for a wide variety of damages/injury/loss.
Compare Car Insurance Quotes and get a policy
For peace of mind it is always safer to get a motor insurance policy. It is advisable to weigh the pros and cons of different policies in the market then decide and take a Third Party or Comprehensive insurance that meets one's requirements. There might be slight variations in the benefits and exclusions depending on the insurance company and thus it is better to check the terms and conditions in detail before taking a policy.
Mentioned below are some car insurance policies by some of the best car insurers in India and their details. One can check them and decide the policy which best suits his/her needs.(source : https://www.policybazaar.com/motor-insurance/car-insurance/)
Best Car Insurance Plans :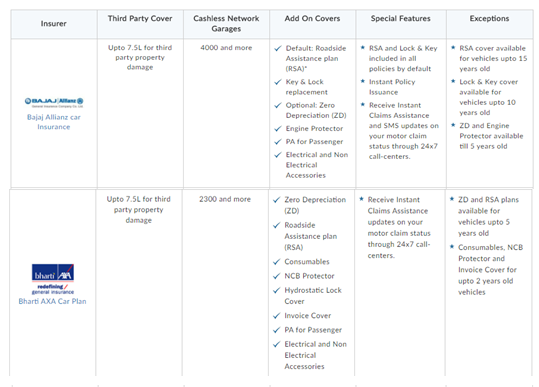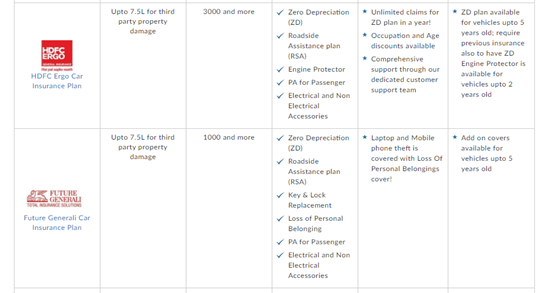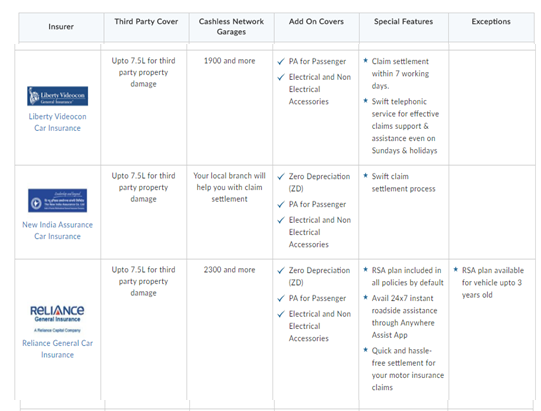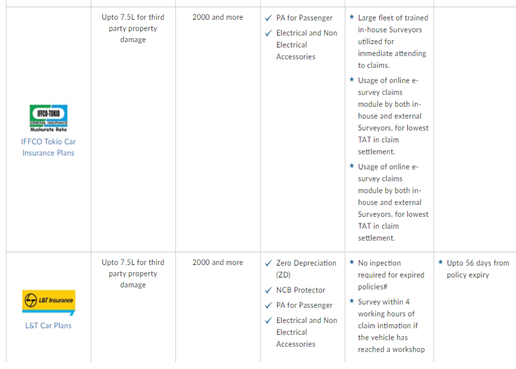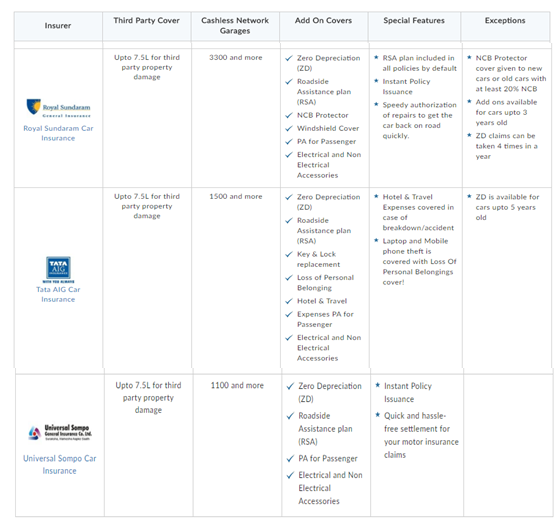 Debalina Roy Chowdhury
Dilzer Consultants
Sources:
http://www.deccanchronicle.com/business/companies/260617/things-your-motor-insurance-policy-wont-cover.html
http://economictimes.indiatimes.com/tdmc/your-money/what-is-not-covered-by-your-motor-insurance-policy/tomorrowmakersshow/52728471.cms
https://www.policybazaar.com/motor-insurance/general-info/articles/exclusions-in-car-insurance-policy/
https://www.bankbazaar.com/insurance/third-party-car-insurance-vs-comprehensive-cover.html
https://www.oneinsure.com/car-insurance/articles/car-insurance-everything-you-need-to-know